Yilan Young Wind Band 10th Anniversary Concert Visual Design
Founded in 2008, Yi-Lan Youth Wind Band was originated as "Wind Band with Students Graduating and Current Student from Yi-Lan Senior High I-Lan Commercial Vocational Senior High". It was a great success and gathered many hobbyists. Later in 2010, we registered as "Yi-Lan Youth and Student Wind Band", and evolved furthered as "Yi-Lan Youth Band". Our band consists of young, enthusiastic music lovers from Yi-Lan. With our insist and passionate, the band has grown from seeds of experimental, exciting, and even crazy ideas. With unique configuration and style of music choice, we want to bring people something that is different. Our goal is to infect our love in music to every single music fans.
From 2008 to 2017, the teenagers have become the youths; we've grown from childish to sophisticated. The torrent river of time, lasing our dreams and intention but only make it clearer and brighter. The melody always points us back whenever our insists derailed from the bitterness of life. We stand on the stage with our dreams and light ourself with our burning passion. This summer, we will celebrate our first decade of joyful time with music, we will together pay our tribute to the youth.
Invitation Card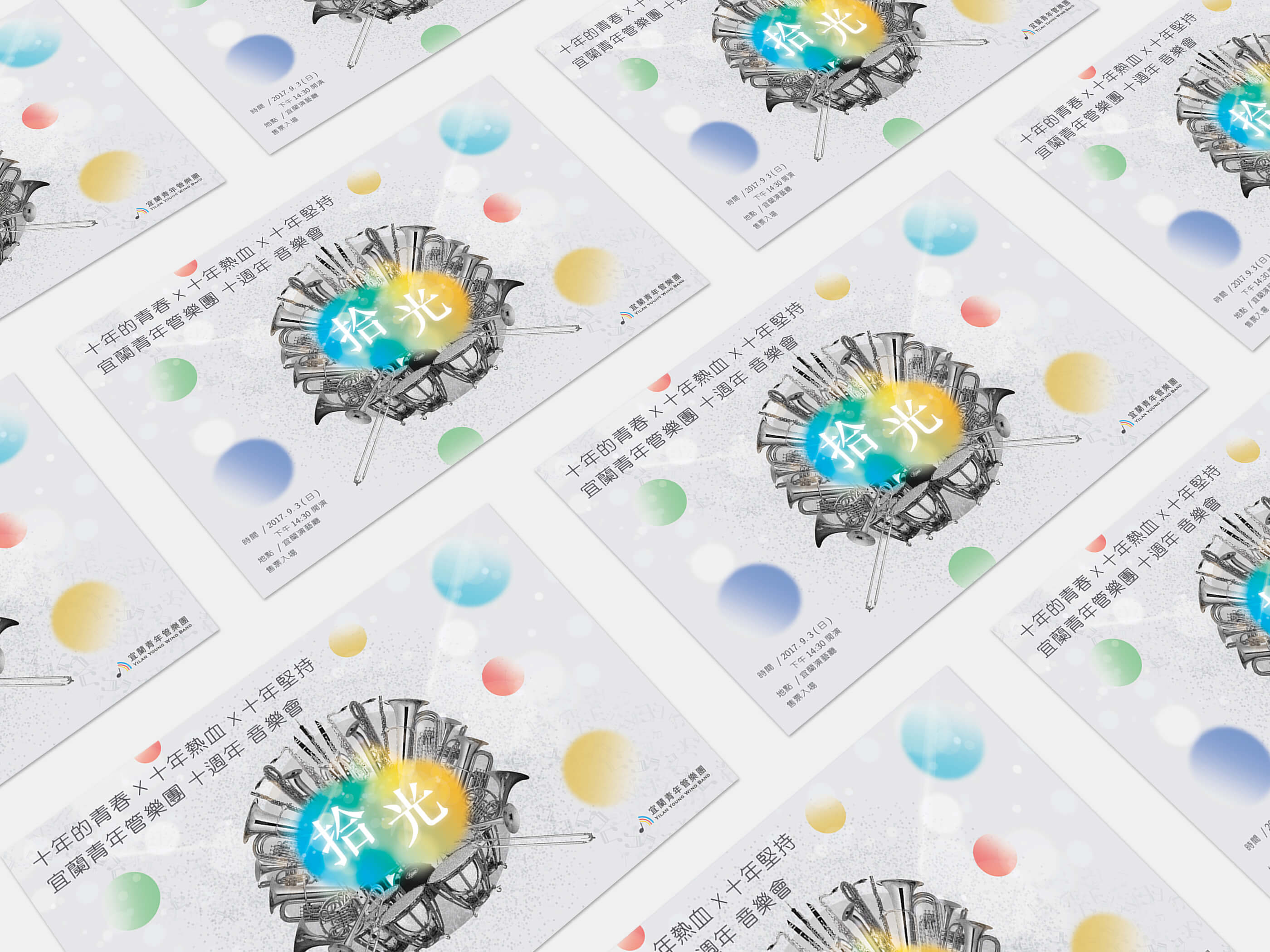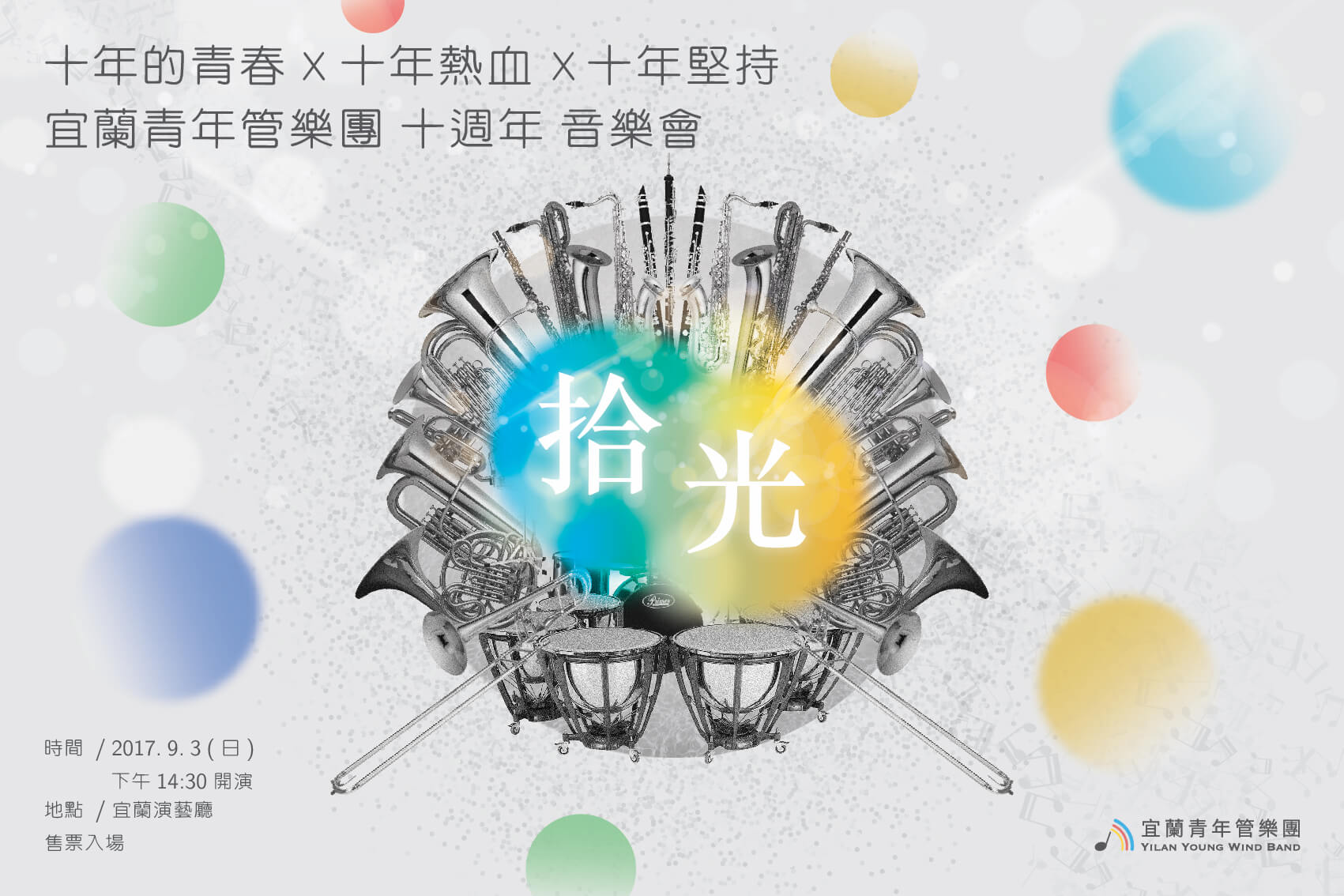 Poster
Going through ten years, Yilan Young Wind Band have the 10th Anniversary Concert in 2017. We believe ten years is not just the clock tick-tocking. It's more than the time goes by. So we choose "ten years"(拾光) as the theme of the concert in 2017. The Graphic concept is developed from this theme, with the dots as the music note. And all the music instruments gather together as a sphere to present our cohesion and enthusiastic about the music. Some blur dots just like memory that we can seems to grasp but actually we can't.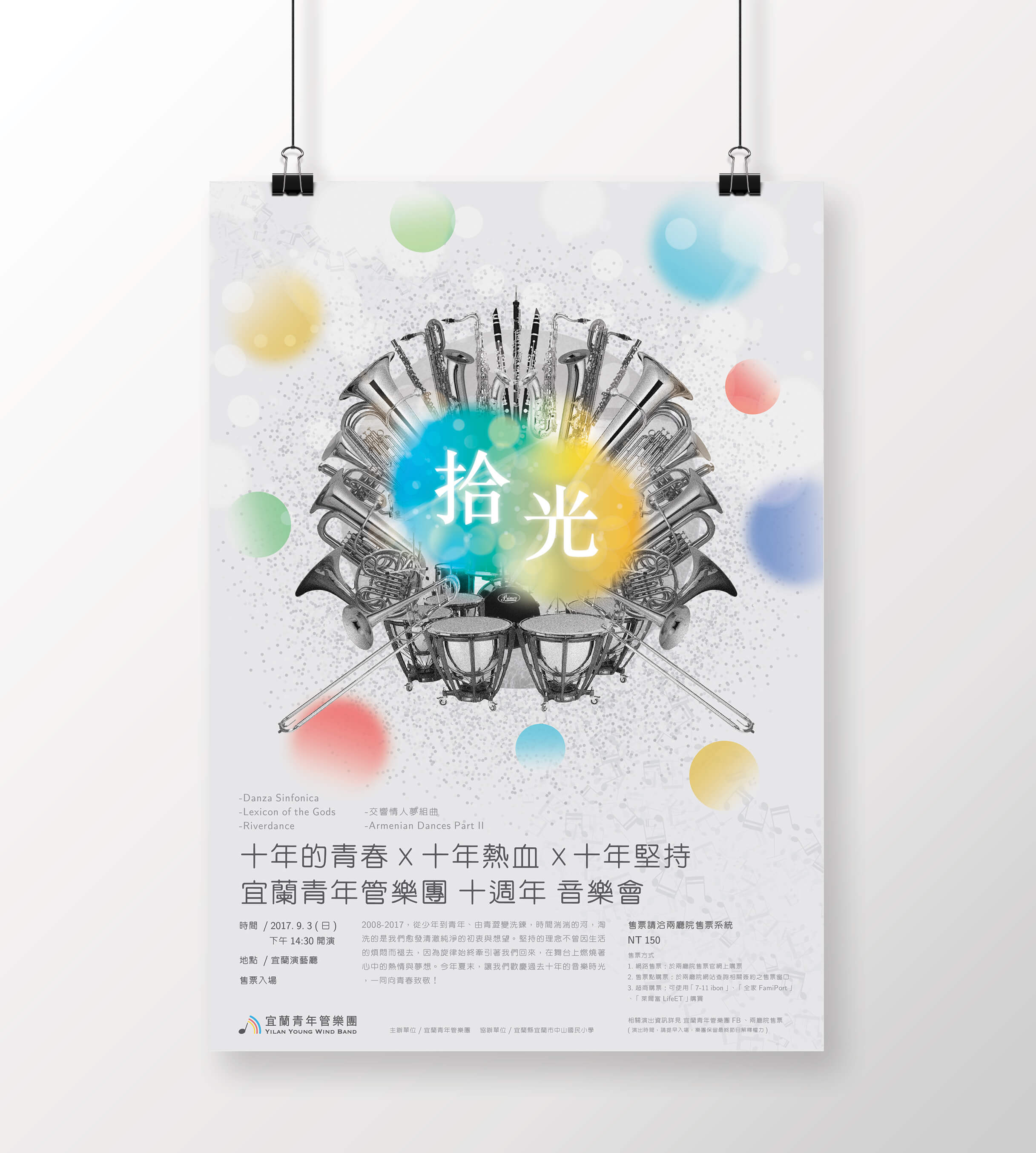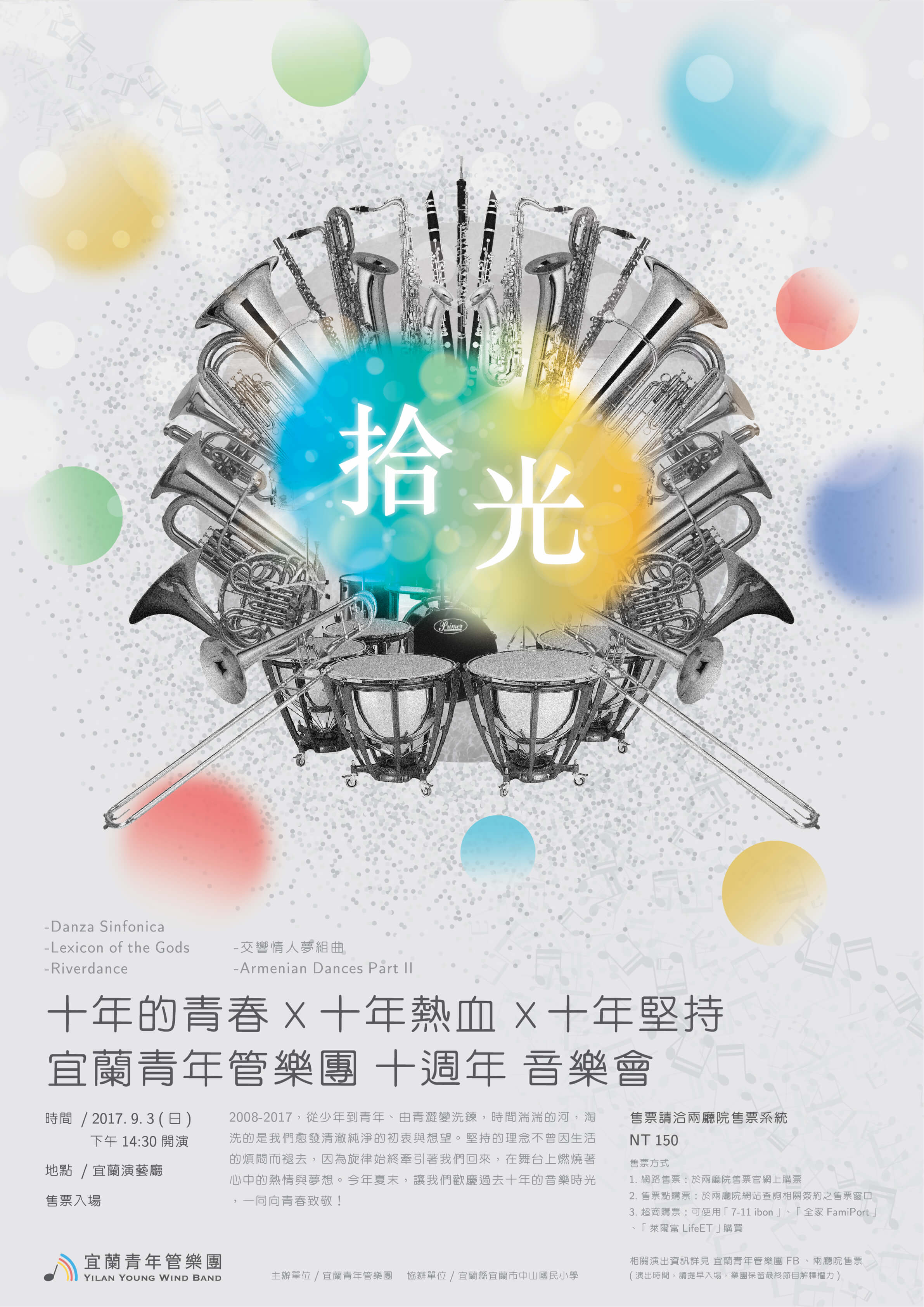 Photography
In the hot summer, Yilan Young Wind Band members are all practicing hard to prepare for the Concert. And I use the space which next to the practicing room to build a easy photography studio. The Composition and the colour of the photography is purpose to keep members professional but with the passion and energy with the music.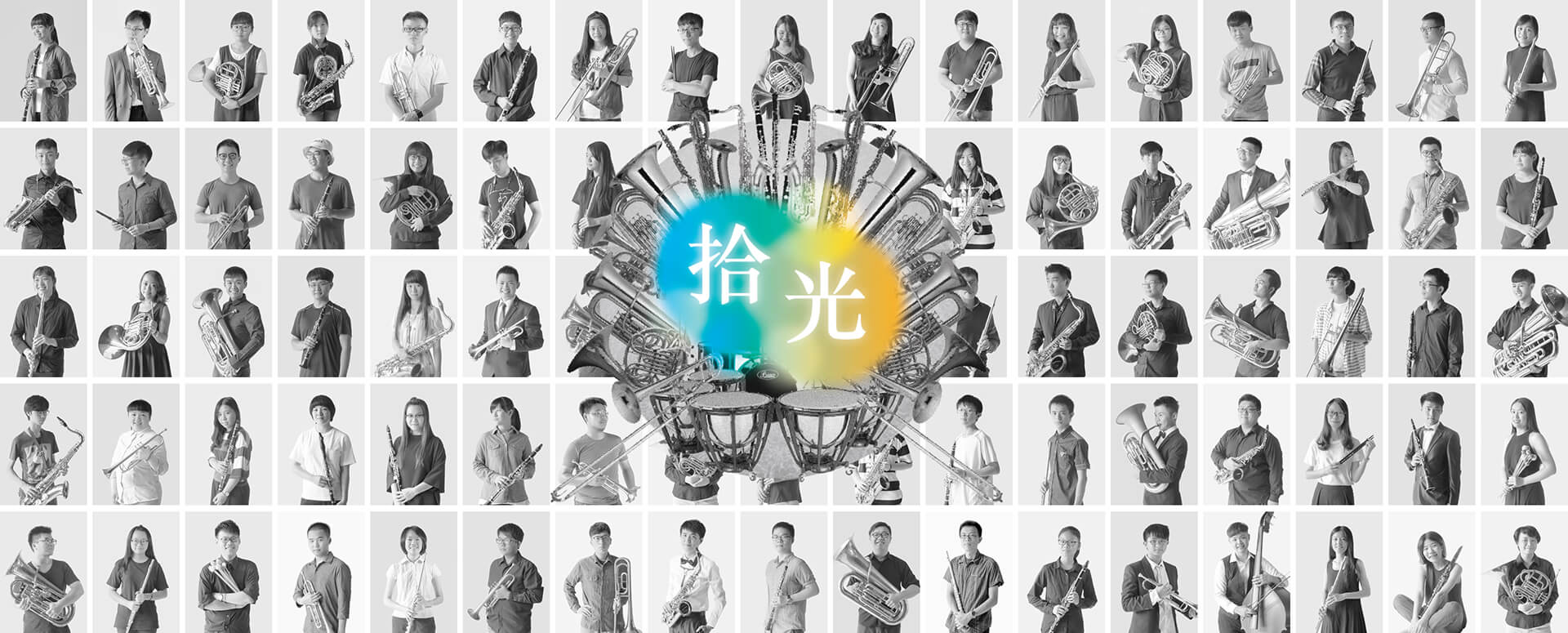 Brochure
Brochure include the introduce about the Yilan Young Wind Band; the order of the composition; introduce about the four conductor; introduce all the members of music instruments part : Flute, Piccolo, Clarinet, Oboe, Saxophone, Trumpet, French Horn, Trombone, Euphonium, Tuba, Percussion, String Bass, Electric Bass and the Piano.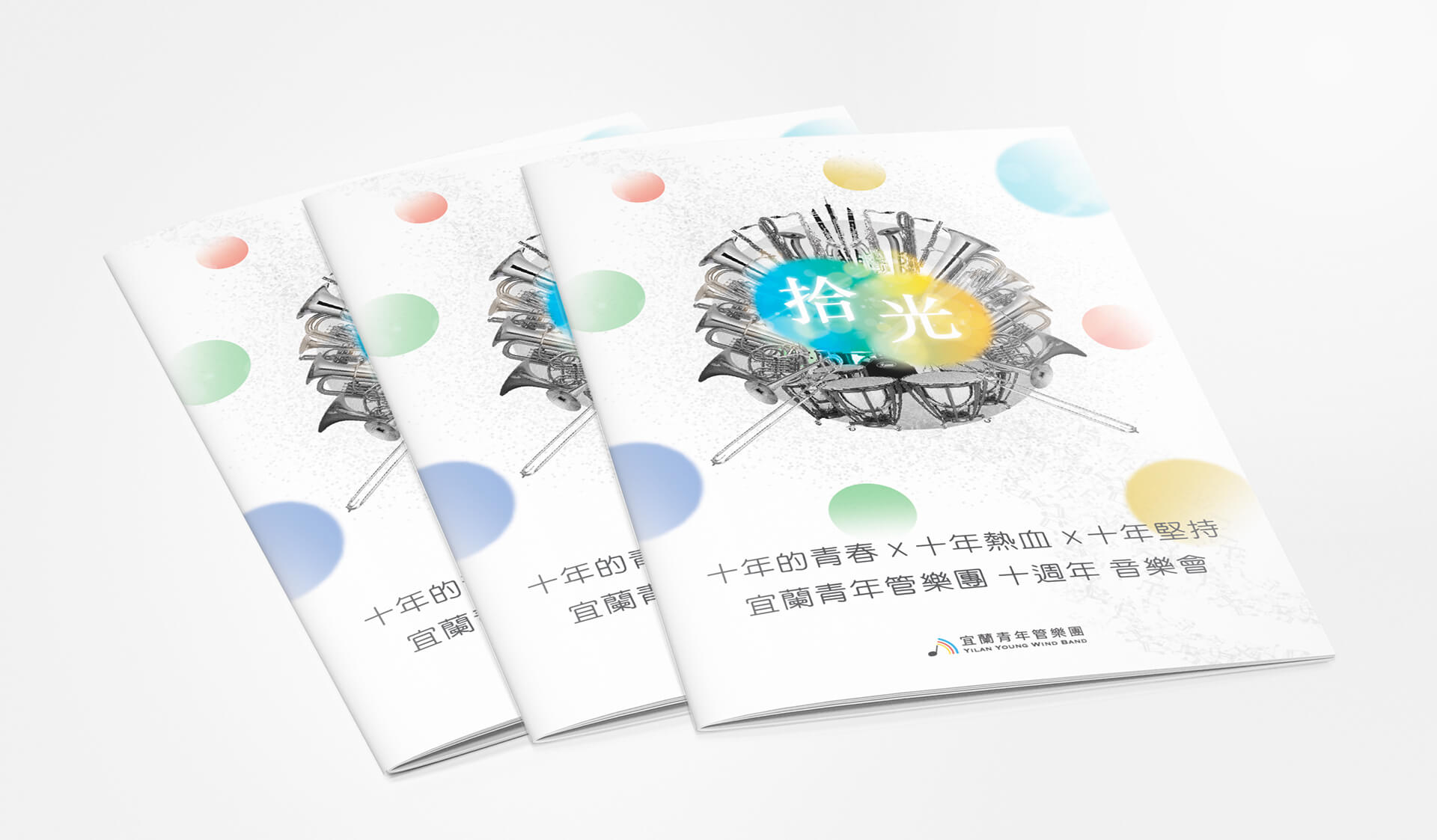 Trailer
We use three music songs which we performed in the concert to compose the whole trailer. And keep consistant of the key visual to show the audiance our design concept. The trailer first premiered in the commercial TV in the bus which is commuting between Taipei and Yilan.